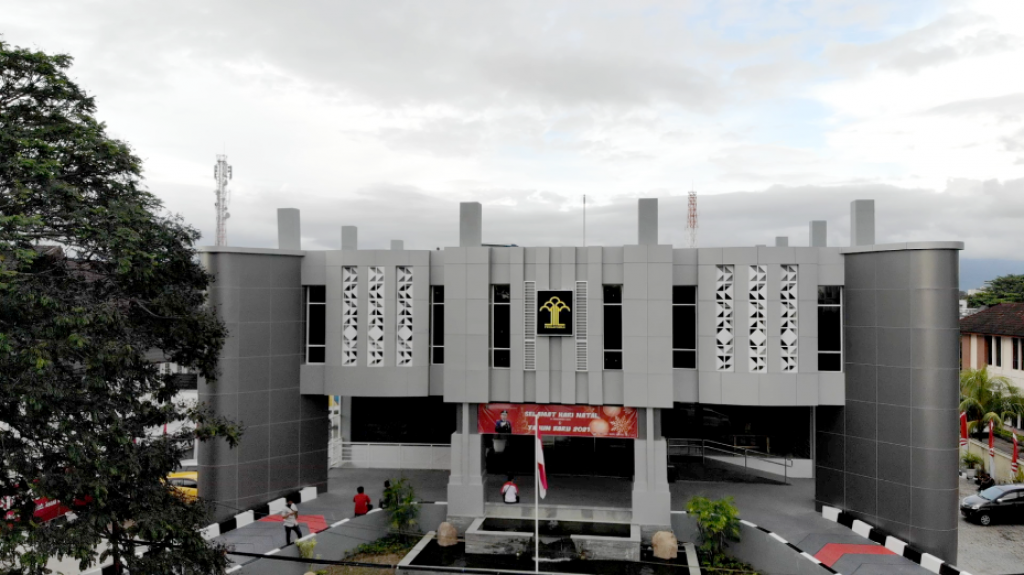 Project Reference
Dinas Kemenkumham
Featured Products:

GS 66100 WHITE | Granit Glossy | 60x60

GS 66309 BLACK | Granit Glossy | 60x60
The NTB Ministry of Law and Human Rights Building is located in Mataram City, West Nusa Tenggara. Easy to find with a strategic location on the side of the main road. Seen in harmony with Mataram\'s neat and beautiful structure, the building looks spacious and sturdy - ready to protect.

In line with the concept of a spacious but understated building, here are some products from
Sun Power Ceramics that are used:
Kalahari Sand, beige color motif with soft veins - porcelain tile with glossy polished finish in size 60x60 is the dominant motif installed in almost the entire building area. Every Sun Power Ceramics tile has a unique trait. The beige marble design for this Kalahari Sand motif is known for its serene and warm aura. With a subdued light brown hue and intricate patterns that resemble the creation of Mother Earth, these tiles light up the office interior and ooze comfort and quiet. As we\'re known that beige color brings out the perfect elegance that you desire and enhances interiors in ways other colors can only gawk in awe at.
GS66100 Polos White - porcelain tile with the glossy polished finish as the decorative part, installed on the lobby areas. As we can say, the lobby can be hectic, for balance, they decide to create an atmosphere of lightness and calm the hectic areas. One way to achieve this is to combine the current tiles with the white floors. White floors can bring a clean, restful foundation to a wide range of décor styles.
GS66309 Polos Black - porcelain tile with the glossy polished finish for the stairs and the decorative lines on the main entrance flooring. This black accent is a décor piece to be utilized to anchor the space and provide elegant accent features. The black floor provides the perfect visual contrast even while anchoring the entire room since it is a look that works well with various styles and decorating.