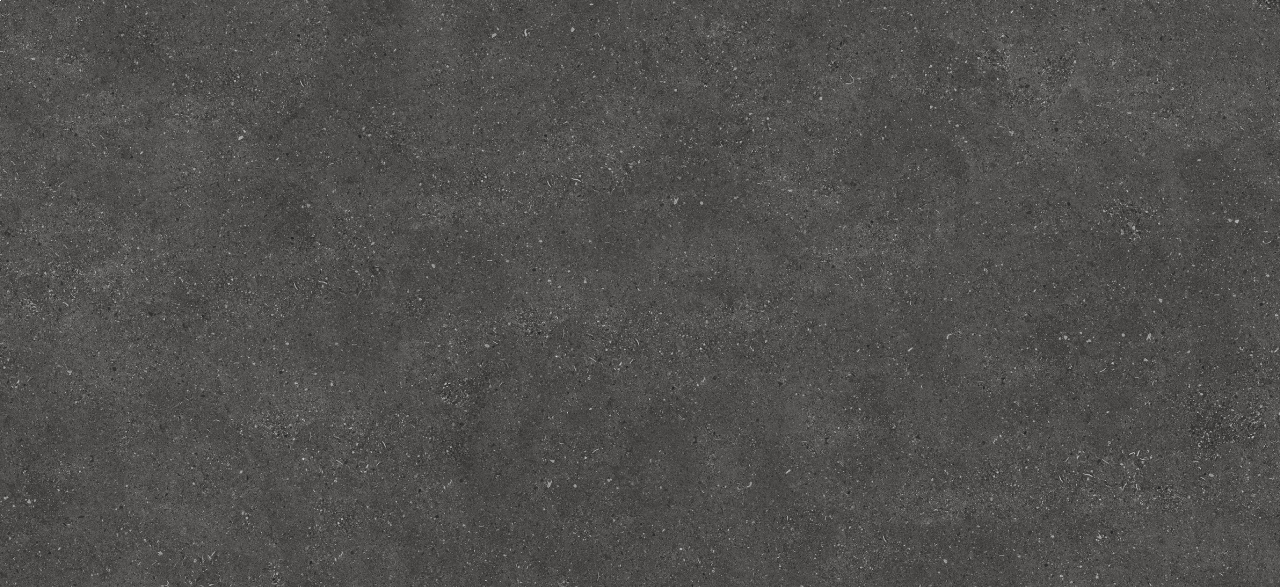 17 CLEVER IDEAS FOR SMALL BATHS
A small bathroom can make morning and evening routines a lot less glamorous and—more importantly—less efficient. All you need to make your small bathroom look as good as its much larger counterparts are strategic styling tips and a can-do attitude. With the latest streamlined fixtures, space-saving storage, and on-trend décor, even the tiniest bathrooms can become beautiful, functional masterpieces.
Get ready to steal these ingenious ideas for your pocket-sized revamp project.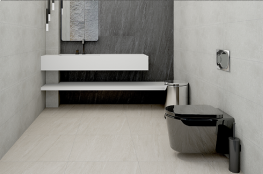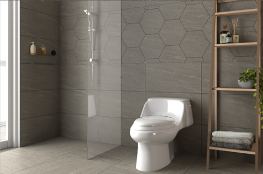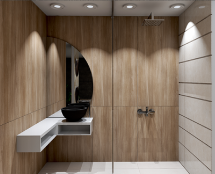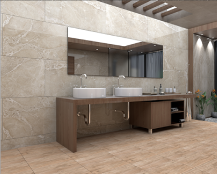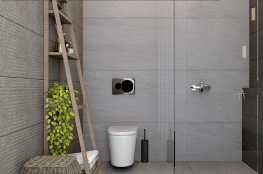 1) Replace Swinging Doors
Replacing hinges and installing pocket doors—whether at the entrance or on a closet enclosure—saves a lot of usable space in a small bathroom.
2) Use a Large Mirror
A wall-to-wall mirror is a guaranteed way to create the illusion of spaciousness.
Mirrors not only add the illusion of more space in the bathroom, but they also reflect more light into the room. Since your bathroom already has a mirror, consider dialing up the size.
A larger-sized mirror will double the appearance of size in one place and can give you a beautiful focal point, even in the smallest of bathrooms. The effect could be so powerful that you'll find yourself needing less decor to make the room look perfectly finished. This kind of mirror can be especially effective in slim, powder rooms, and en-suites.
3) Increase Natural Light
If more light is better in a small bathroom, then natural light is always the best. Windows and skylights that potentially provide light may be painted over, dirty, or covered with curtains. Cleaning windows is easy and inexpensive. Skylights covered in moss can be cleaned roof-side with a scrub brush, warm water, and a mild detergent.
The oversized pendant adds enough contrast and floods the room with light, essential in a bathroom.
Natural light helps to see things as they really are and also boosts your mood. In addition to reducing energy costs, windows can maximize a scenic view. The results of having more light are always positive, so read on to see how you can increase natural light in your bath design.
4) Center of Attention
A catchy and bold tile motif to be installed on the shower serves as an eye-catching focal point in this small bathroom. The remaining wall space is outfitted with a bookmatch design or the contrast part for the plain wall, whose muted tones are with the plain grey or beige colors. Those combinations will create a calming effect that helps keep pattern-pushing small spaces from feeling overwhelming.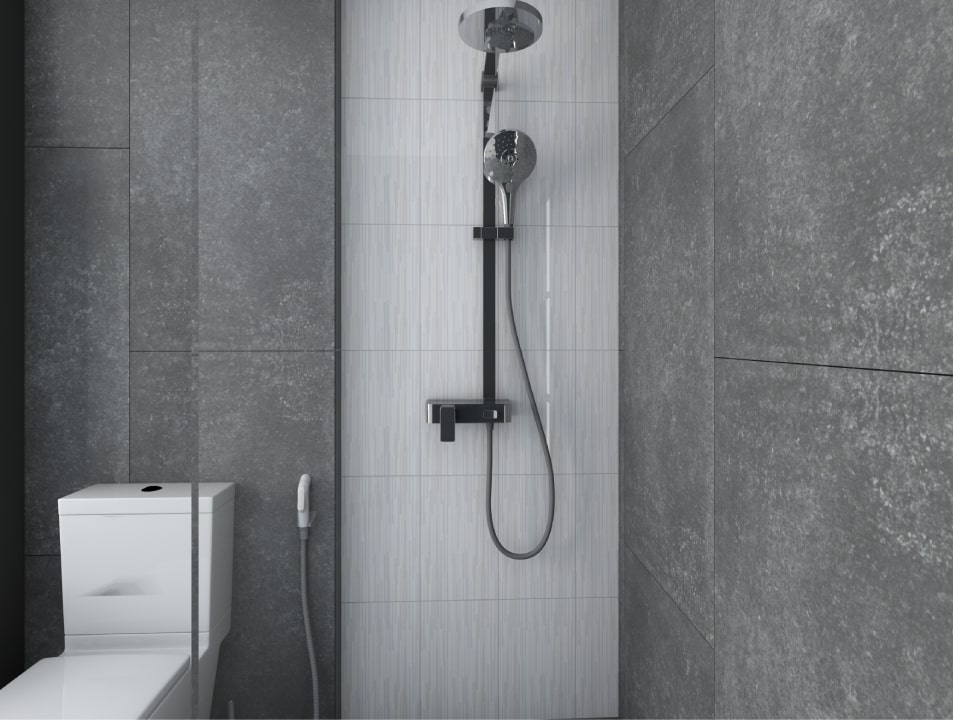 Wall: Concrete Black I 120x60 I Porcelain Tile I Matt Wall: Arezzo Ivory I 25x40 I Ceramic I Glossy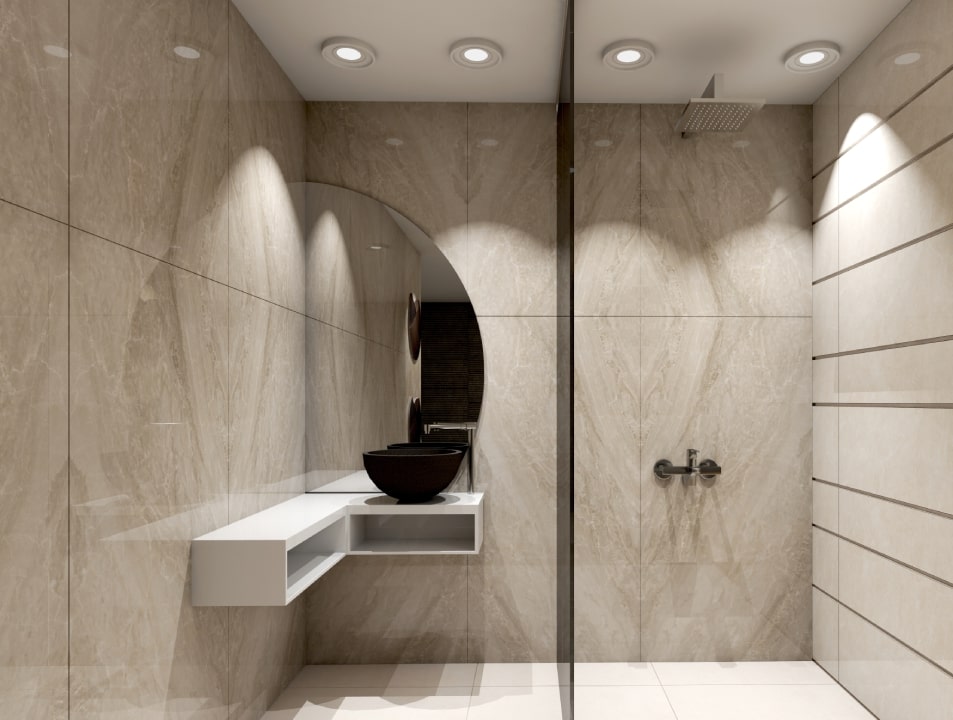 Floor: Sandstone Bone I 60x60 I Porcelain Tile I Glossy Wall: Vittoria Verde Bookmatch I 120x60 I Porcelain Tile I Glossy
5) Add Alternative Decoration with Tiling
Avoid overwhelming a small space with too many different decorating themes. But that doesn't mean your bathroom has t be devoid of personality. The pairing of traditional design patterns and some plain tiles adds interest without overwhelming this small room with patterns. Since the conventional pattern like the Morrocan tor even Javanese, Indonesian Batik pattern becomes a trend for nowadays. Djava collection from Sun Power Ceramics is the best choice for this replacement.
Wall: Valdivia Perla I 30x60 I Ceramic I Glossy Floor: Djava Griss I 60x60 I Ceramic I Matt
6) Buy Freestanding and Multi-functional Furniture
A limited footprint shouldn't impact your creative flair. However, if your bathroom is verging on the small side, consider using freestanding furniture that you can move around at a moment's notice.
Going for freestanding storage and seating allows you to move your scheme around whenever you like, and, unlike fitted bathroom units, you can take freestanding pieces with you when it's time to move out.
7) Use Sliding Door
The kind of issue where you have a tiny space and opening a door into (or out of) that small area makes for some awkward maneuvering? It's a pretty small area to walk into, and having the door swing into the already tiny space was frustrating from day one of living there.
Swinging doors take up precious real estate in any room, and they can significantly limit the design options of a tight lavatory. Consider installing a sliding door for added space.
8) Furnish to Scale
Large furniture items can dwarf a small room so always buy pieces that suit the scale of your space. In a small bathroom, stick to the basics of a vanity unit and storage rack that you can either hang on the wall or rest on the edge of a bath. But that doesn't mean that you can't pack on the personality. Paint a vanity unit in your favorite color and opt for patterned tiles on the floor.
9) Tile Halfway up the Wall
Unsure how to tile a sloping ceiling? Then try tiling halfway up the wall. It'll save on tiles and make the space feel larger. Next, choose a dark neutral tile and paint the ceiling above it white to maximize brightness from roof lights.
10) Country Charm
Try the retro bathroom style, the thin pedestal sink lends an illusion of spaciousness. Wall-mounted shelving makes up for the lack of cabinet storage, while the white wainscoting and penny floor tiles create country-inspired charm.
11) Use the Same Tiles on the Floor and Walls
A clever trick to making a small bathroom look bigger is to use the same tiles on the walls and the floor. Use wall panels or matching floor and wall tiles in large-scale sizes for a seamless look. Not only does the natural stone design from Baronia Grigio - one of the best-selling motif from the Sun Power Ceramics collection, in this family bathroom add a spa-style touch, but the continuous run of tiles creates a spacious feel, along with the wall-hung fixtures that save on floor area.
If natural stone feels too neutral, you can easily pep it up with solid color pops with your towels, storage, and accessories – an on-budget way to add personality to your bathroom.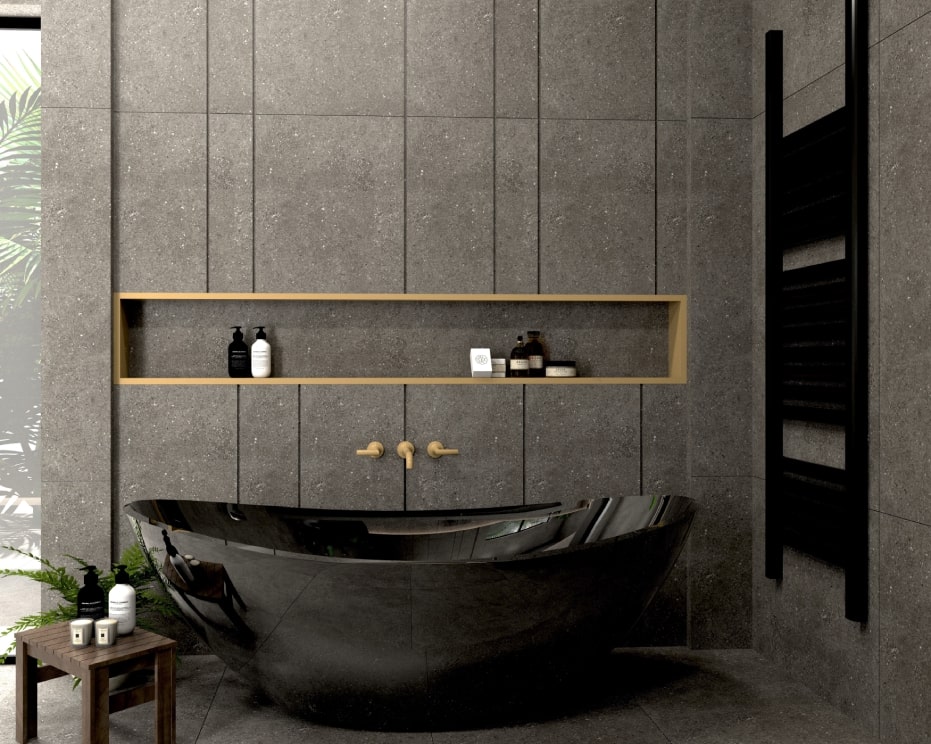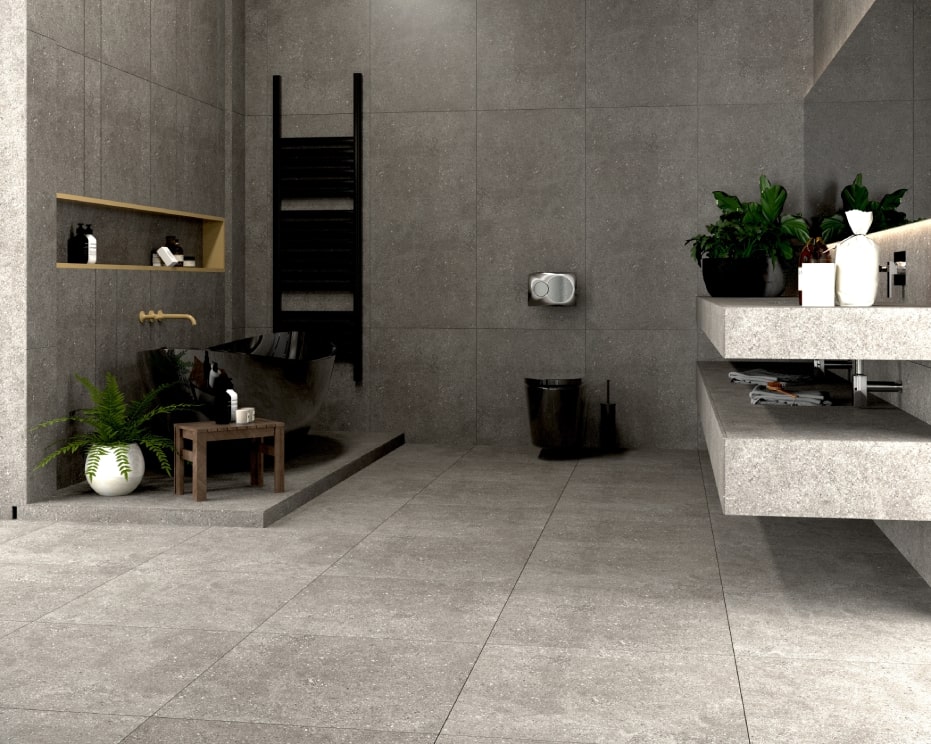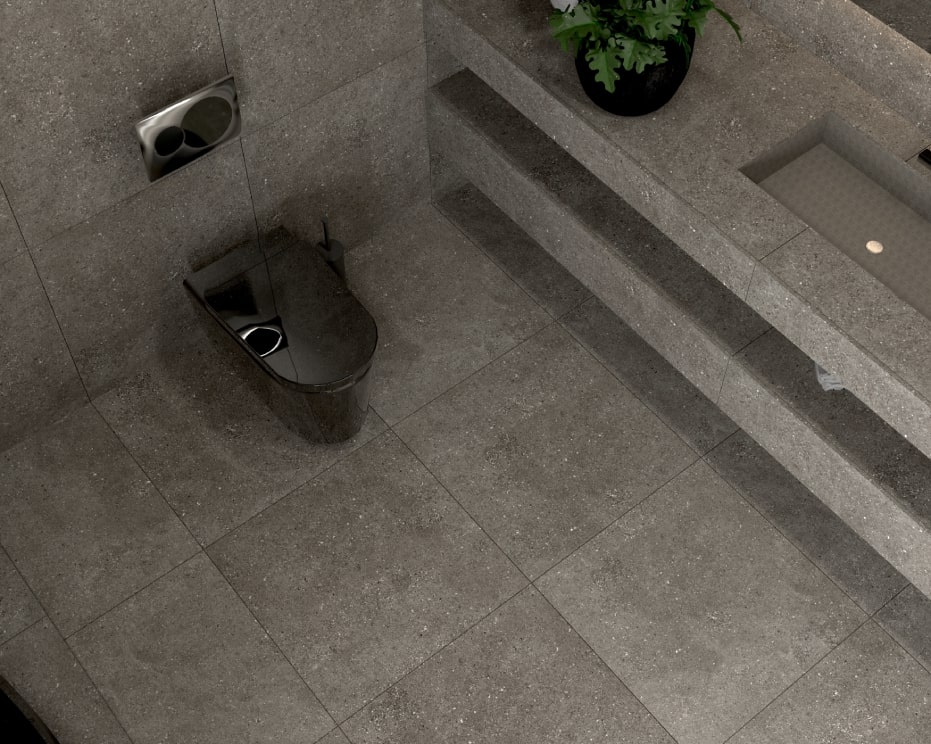 Wall: Baronia Grigio I 120x60 I Porcelain Tile I Matt I Floor: Baronia Grigio I 60x60 I Porcelain Tile I Matt I Sink: Baronia Grigio I 120x60 I Porcelain Tile I Matt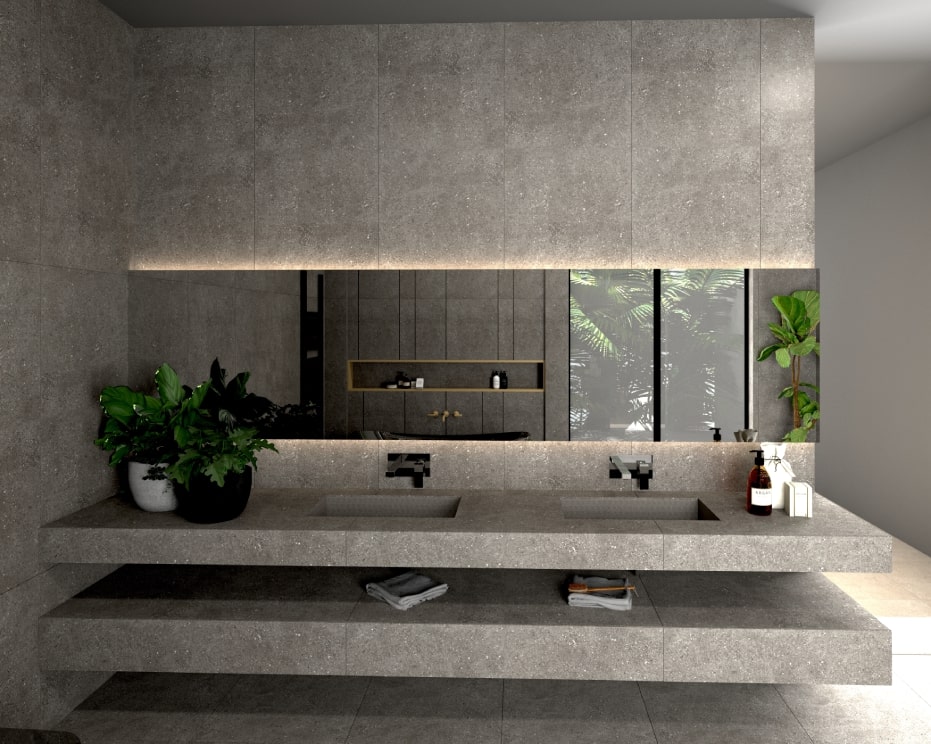 12) Nooks and Crannies
Tiny bathrooms need an extra dose of creative planning, and dead wall space should not go to waste. Instead, consider adding recessed shelving between the wall studs to maximize your storage options.
13) Overhead Storage
One of the ways you can store all those extra bath products, towels, and cleaning supplies is in an overhead storage placed right above your bathroom door. This waterproof unit can be open or closed — either way, it will keep all your bath supplies out of sight without looking like an imposing box.
The narrow bathroom utilizes its high ceiling with wall-mounted glass shelves above the toilet. Filled with bright decor, they add a vibrant personality to the room.
14) Add a Hint of Colour to a White Suit
While a white bathroom color scheme is the best choice for opening up a small space, it can sometimes feel a little stark if the whole room is white. That's why a hint of color on the walls is the perfect compromise: light enough to create an airy feel, but with bags more character. Even some may say it's boring, but an all-white bathroom makes any tucked-away space feel bigger and brighter. With interesting materials—like a natural stone countertop and corresponding trim, light wood cabinets, and graphic floor tiles—ensure plenty of styles. Create a strategic layout that works with the odd shape of your space.
15) Have Recessed Shelving Built-in
A mirror hung at an angle above a corner sink for a small powder room, or bathroom maximizes every inch (and clutter can be stashed behind the fabric skirt). The Wedgwood plates and round accent table help counteract the boxiness and add charm. And add a small table for your extras. Choose a small table with an open base so it doesn't close off space. It'll give you a spot to set magazines, flowers, or candles. Recessed shelves are a great space saver, both practically and visually, keeping toiletries neat and off the surfaces. Building the shelves into false walls that hide pipework is a clever use of a necessary feature. Also, consider recessed light fittings – either spot or linear.
16) Keep it Simple
If you're in a quandary over how to decorate your small bathroom, keep it simple with soft, natural shades. Choose furniture and accessories with clean lines and keep the room as clutter-free as possible to create a feeling of space. Enclosed by a simple curtain and drain save serious space compared to traditional total installs.
17) Never Block Windows
Make the most of all areas in your home by creating a shower enclosure under an angled piece of ceiling or a hidden bit of space. Natural light is too important for cramped spaces to block with a dingy shower curtain. Instead, opt for clear glass doors. It still works as a tiny, zen-filled bathroom.
More inspirational ideas